The word LASIK is an acronym for Laser- Assisted In-Situ Keratomileusis (LASIK) and is currently a popular surgical procedure that is being performed by Eye Doctors to improve vision by correcting refractory errors. This procedure utilizes a highly specialized laser which is designed to treat refractive errors, improve vision, and reduce or eliminate the need for glasses or contact lenses.
LASIK eye surgery has become the most popular vision surgery in the country. The surgery improves the vision in patients who have nearsightedness, farsightedness, and astigmatism. LASIK surgery usually takes less than one minute per eye. Treatment involves reshaping the cornea - the protruding portion of surface of the eye - to improve vision.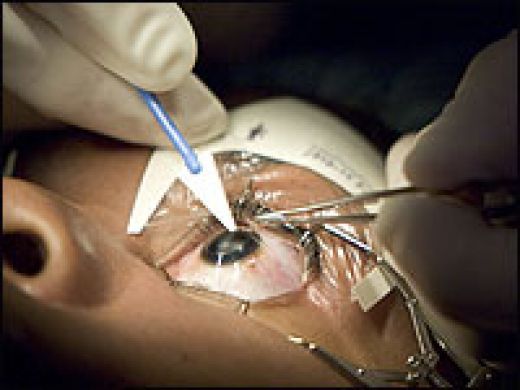 LASIK Eye Surgery is the procedure of choice and can be elected to be done for a person who is dependent on glasses or contact lens for a prolonged period. It corrects the refractory errors in patients who have -
Myopia or Near-sightedness
Hypermetropia or Far-sightedness
Astigmatism
In order to perform this procedure the following conditions should be satisfied:
The patient needs to be over 18 years and healthy
Should be no infection, glaucoma or dry eyes
Refraction of the eye should be stable for at least a year
Should not be on prescription drugs, like oral prednisone
Not be pregnant or nursing
Not suffering from degenerative or autoimmune disease
Preparation for LASIK Eye Surgery starts well before the surgery. The doctor should be told about the medical history, medications currently being taken and medications allergic to, if any.
Precautions:
If using soft contact lens, the patient must revert to using glasses for at least two weeks prior to the baseline evaluation. This is to restore the normal shape of the cornea. If using hard contact lens the user should stop using them from 6 weeks prior to the surgery. Usage of creams, lotions or cosmetics on the face and eyes should be avoided a day prior to the surgery.
Before accepting LASIK eye surgery, a thorough baseline evaluation of the eye is required by the ophthalmologist. Once the patient's eyes are prepared for surgery a computer and a low wattage laser is used to scan and map the cornea. This information creates a map of the cornea and it helps the computer to determine its exact shape. The surgeon uses this information to calculate the exact amount and depth of corneal tissue to be removed during the operation to get the right shape.